EXPERT - Highest quality for all cutting tasks
Highest quality, compact and always at hand.
Our goal is to provide our customers with a simple and practical solution for all their tooling needs. By offering a variety of core drills, hand and machine taps, dies and matching holding tools, you can be sure to get all the important tools for your respective jobs in a compact and space-saving form.
To provide our customers with an unparalleled experience, we offer our products in high-quality assortments. Each individual set has been carefully assembled to provide you with all the important tools for your jobs in a compact form. Our products are clearly lined up in noble lacquered wooden boxes, robust plastic or indestructible steel sheet cassettes, so that you always have the right tool at hand quickly and easily.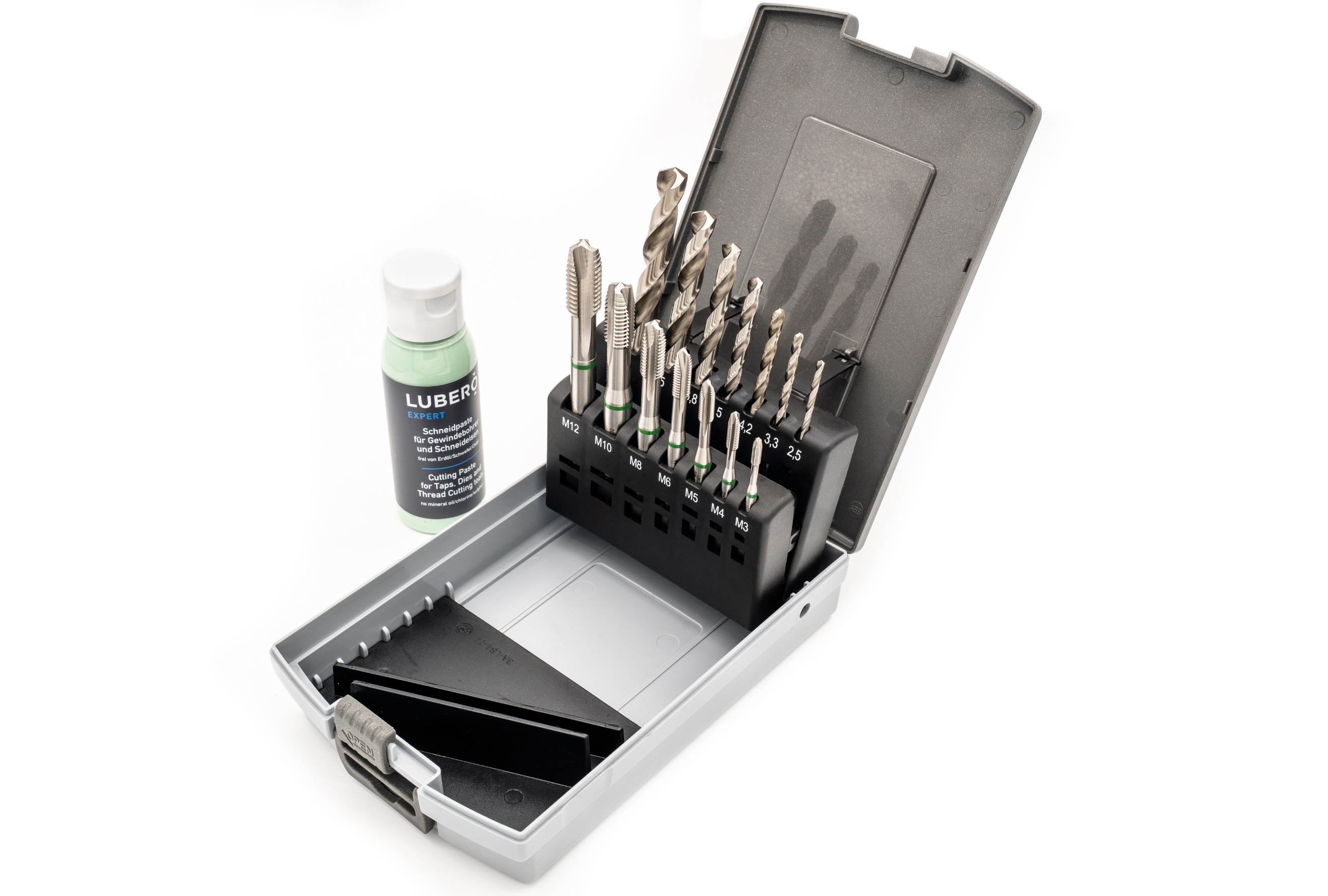 Machine tap set with twist drills type UNI
FMG – the optimal all-rounder set
The LUBERO machine tap set. Available in our range in different versions for almost all common materials. In a practical resealable set box made of plastic. With matching compartments for machine taps in the dimensions M 3 – M 12 as well as the corresponding twist drills for the perfect core hole drilling. Simplified selection for your needs thanks to our practical coloring system. Depending on the material group marked with a corresponding color ring to recognize directly at first glance which tool is the right one. In the VA range also with HSS-CO twist drills for a better tool life. In our catalog you will find the different versions divided according to the materials to be machined. Ideal for mobile industrial use, as well as for the hobby user!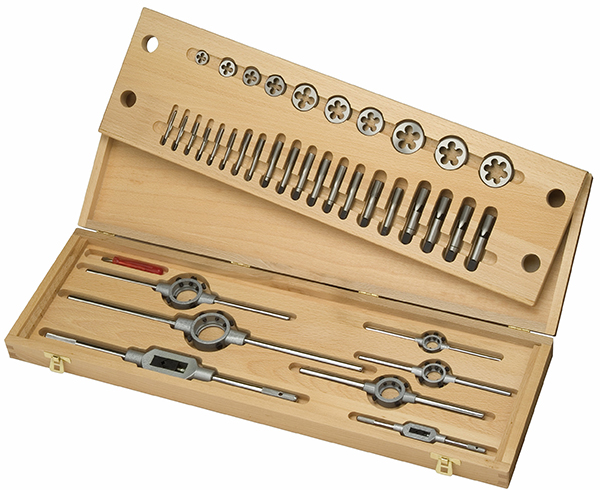 Wooden box assortments
Our thread cutting kit is an ideal solution for anyone who needs to cut threads on a regular basis.
Our range is available in a variety of different thread types, such as M, MF, UNC, UNF, BSP, etc., to optimally cover every need. It is perfect for those who are looking for a simple and practical solution to get their projects done efficiently and professionally.
The set consists of hand taps and dies, as well as the necessary holding tools to ensure safe and precise use. It is packaged in an elegant wooden case that gives a stylish look while providing protection to keep the tools safe during transport and storage.
The set is ideal for mobile use and for hobbyists who often need to cut threads. It offers a practical solution that provides all the necessary tools to complete any project quickly and easily.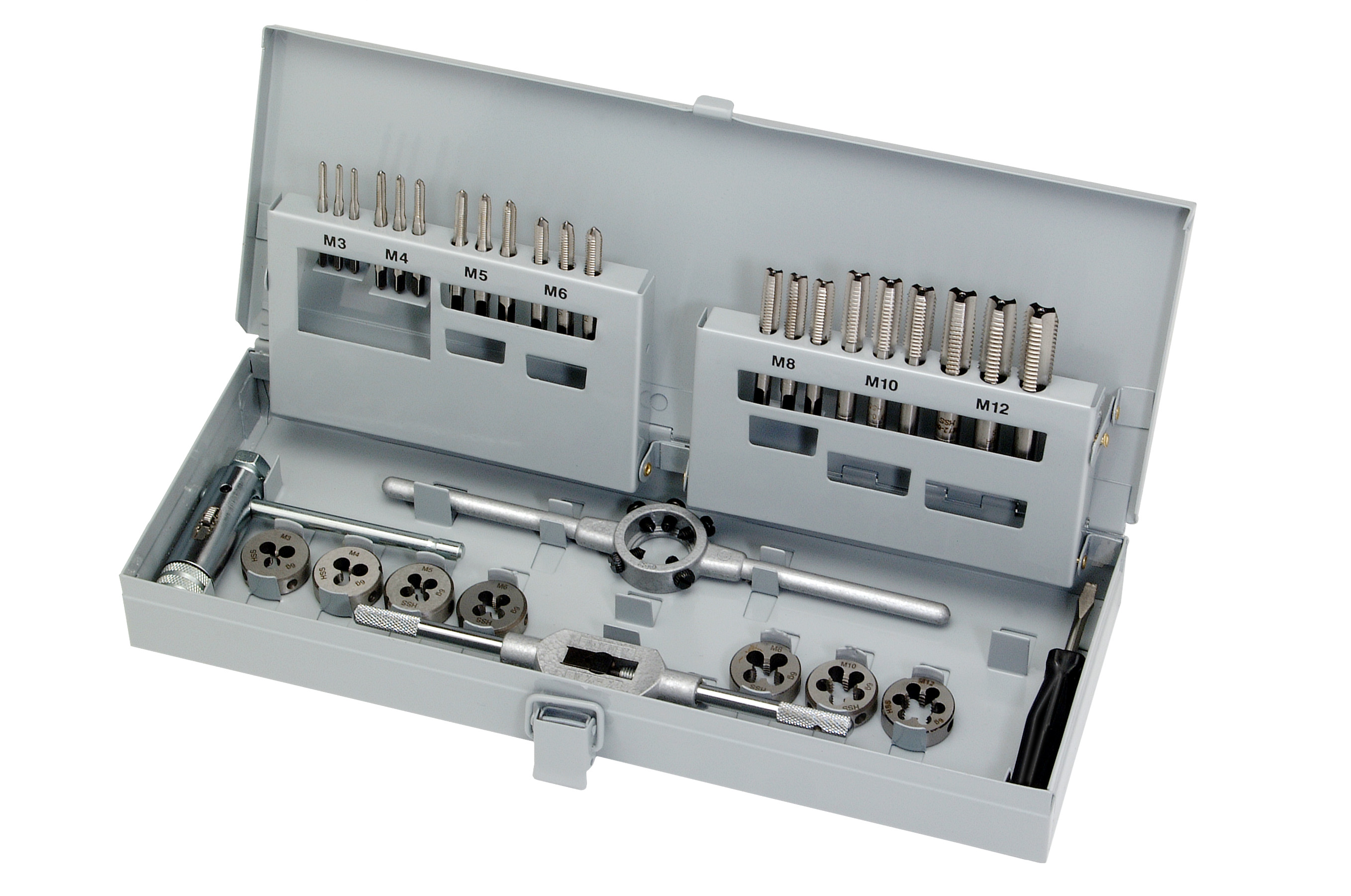 Steel sheet cassettes Small
The beginner's set for those looking for a cost-effective solution to cover a wide range of dimensions in the metric range.
With one purchase of this set, you can cover multiple dimensions without having to buy a separate tool for each size. The set includes hand taps and dies in sizes M 3 to M 12, as well as the matching holding tools, all packed in a convenient sheet steel cassette.
The cassette not only provides a safe storage option, but is also easy to transport and can be taken anywhere. With this set, you'll have everything you need to implement most handmade projects that require metric dimensions.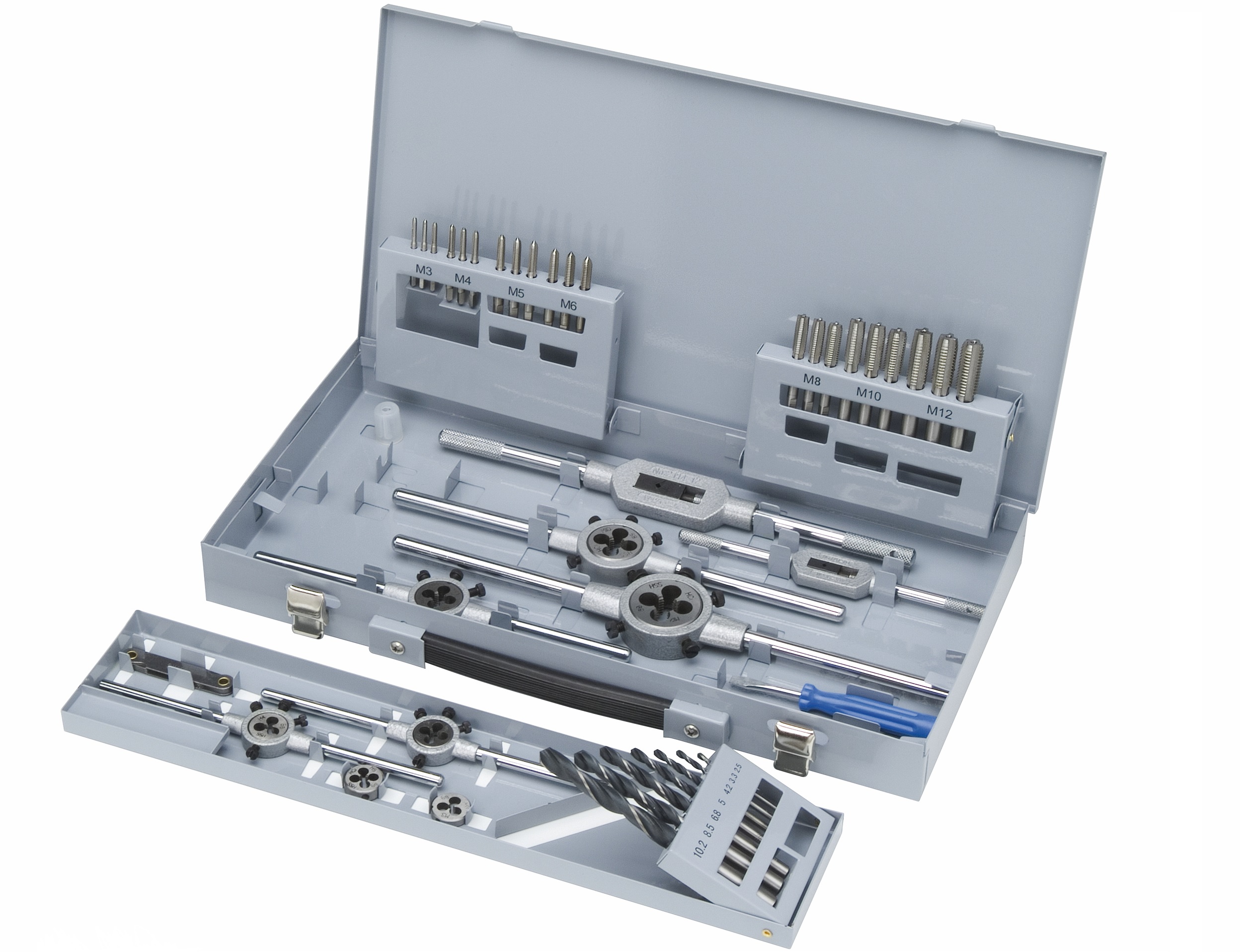 Steel sheet cassettes large
This comprehensive set offers everything you need to successfully cover the entire process of tapping.
The included twist drills ensure that you have all the tools you need to achieve precise and efficient results.
To optimally cover your needs, we carry this assortment in various dimensions. The set consists of hand taps, dies, matching holding tools and twist drills, all perfectly matched to ensure smooth and effective use.
With this set, you can be sure that you always have the right tool to successfully complete your projects.