Lubero - High quality threading dies for professional use
Taps are indispensable tools in metalworking to cut precise and reliableexternal threads. LUBERO is the expert in this field and offers not only standard tools but also tailor-made taps and threading dies.
From taps to hand taps and thread formers to machine taps and holding tools - we develop individual solutions for all kinds of threading tools with short delivery time and highest precision. With our many years of experience in the manufacture and design of threading tools, we use only high-quality materials and state-of-the-art technologies to ensure that our tools meet the highest standards.
Request now
Request now
Threading dies for the highest requirements in industry
Our high-quality dies are perfectly suited for a wide range of applications, including those found in the automotive, aerospace, mechanical, electrical and medical industries.
In the automotive industry, for example, they are used for the production of engines and transmissions. In the aerospacetinindustry, threading dies are used in the manufacture of aircraft parts and components. In mechanical engineering, they are used for the production of tools and machine parts.
Our tailor-made threading dies are designed to meet the specific requirements and needs of the individual industries. We will be happy to assist you in selecting the right threading dies.
Types of threading dies at LUBERO
There are different types of threading dies, which should be selected depending on the application and the type of thread. The most common type is the round die, which has a standardized diameter for a specific range of thread dimensions and has a short gate on both sides. There are also variants such as dies with a peel cut, lapped thread and special versions with a vaporized or nitrided surface. another type available at LUBERO is the hexagonal cutting iron. These are mainly used for recutting damaged threads and can also be operated with ordinary open-end or box wrenches.
Round die
We offer an extensive range of round external taps in many different sizes for general use. Our tools are characterized by very good quality and an attractive price-performance ratio. Let us convince you!
Hexagonal cutter
The hexagonal die from LUBERO is the perfect tool for cutting new threads as well as for repairing and recutting damaged threads. It is also suitable for hard-to-reach places where threads need to be cut.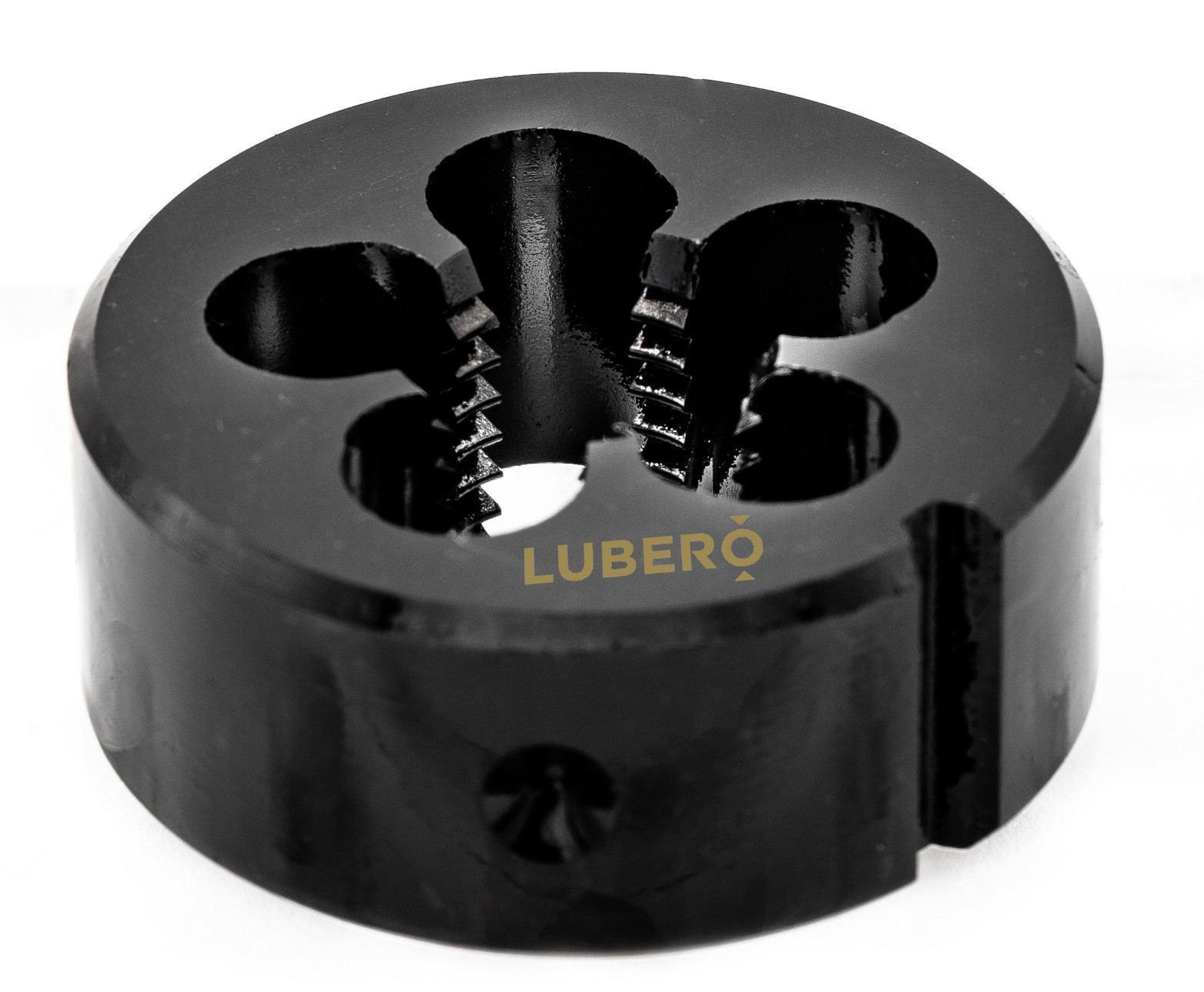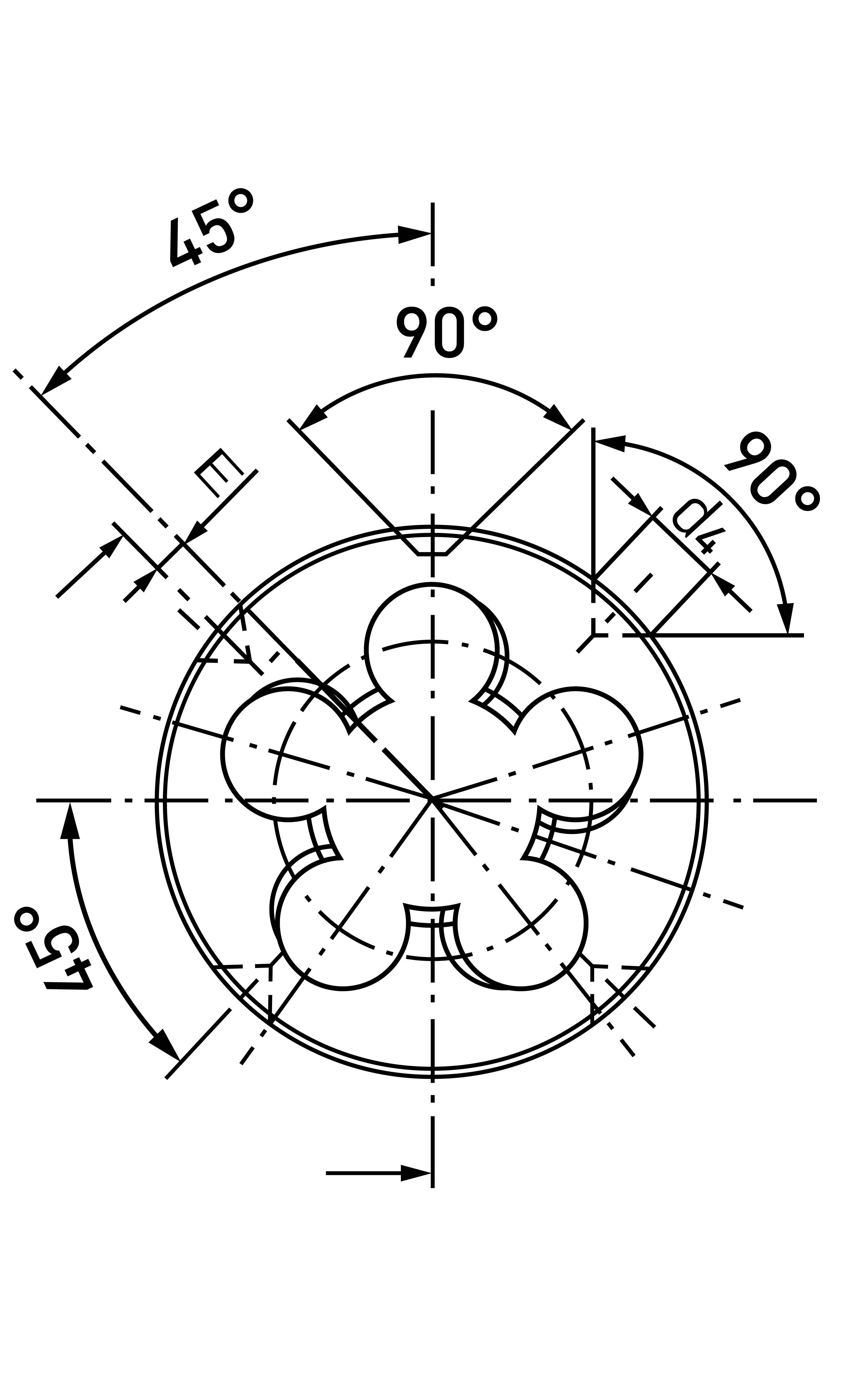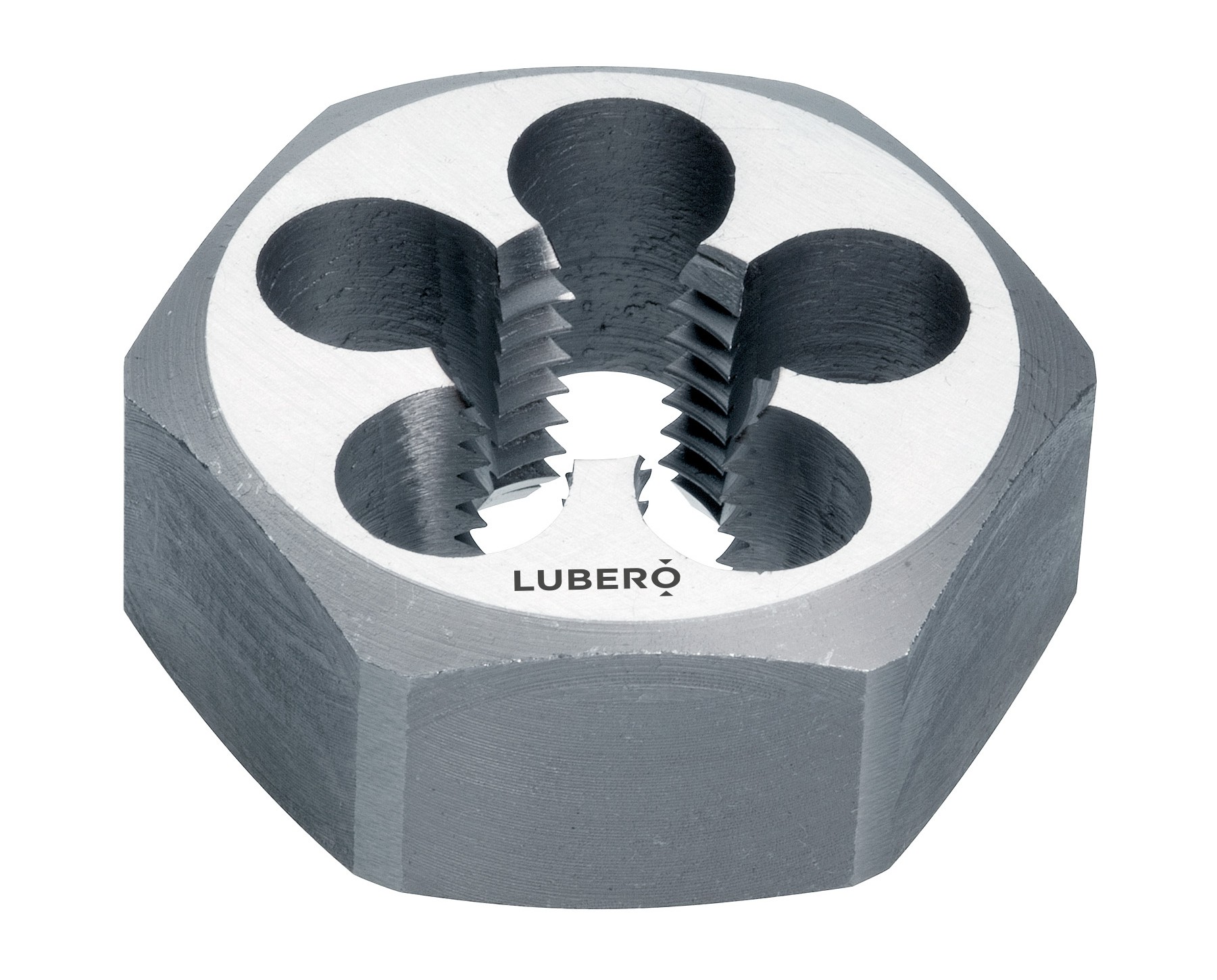 Round and hexagonal dies are indispensable tools for the manual production of bolt threads. The two dies differ only in their external shape. While the hexagonal die has a hexagonal outer shape, the round die has a round shape.
What is a bolt thread?
Bolt threads are a type of thread located on the outside diameter of a round workpiece and are used for fastening screws, for example. LUBERO Dies offer very high precision and efficiency in the production of your bolt thread.
Advantages of thread cutting with a die
A die can be used both in a machine and by hand.
The dimensionally accurate thread is produced in one pass without any infeeds.
When re-tapping a bolt thread, with the hexagonal die, often only a wrench with the appropriate width across flats is sufficient.
By producing the bolt thread more quickly, a die can contribute significantly to reducing manufacturing costs.
Dies for different materials
Threading dies can be used for a variety of materials, including steel, stainless steel and aluminum. However, each material has different properties and requires special dies to ensure precise and efficient machining. We offer a wide range of cutting irons for different materials to ensure that our customers can achieve the best possible quality and efficiency in their production. Our cutting dies are made from high quality materials and are designed for durability and reliability. We also offer comprehensive advice and support in selecting the right cutting iron for each material and application to ensure that our customers achieve the best possible results.
Request now
LUBERO - Customization and individual fitting
In modern industrial production tailor-made threading tools are indispensable to ensure optimum performance and efficiency. In order to master special threading challenges, customized threading tools are indispensable in modern industrial manufacturing.
Our expertise can give you a decisive advantage over the competition! We not only offer individual taps, but also manufacture high-quality machine taps, hand taps and individual thread formers to measure.
Why should you choose LUBERO?
We are a manufacturer of threading tools headquartered in Viernheim, Germany.
We are known for our uncompromising quality and have more than 90 years of experience in the field of threading.
Our team consists of experts in this field and we are able to offer custom made products with short delivery time.
We have a large standard range at competitive prices and process requests quickly.
We are a reliable partner with consistent contacts offering high flexibility.
Our modern machinery and our type MULTI are further reasons why we are an excellent choice for threading tools.
FAQ: Frequently asked questions about threading dies
What is a threading die?
A threading die is a tool used to cut external threads on bolts or screws. It is often used in metalworking to create precise and reliable threads.
How do I choose the right die?
When buying a cutting iron should take into account the size of the thread and the material and hardness of the workpiece. Also pay attention to the range of application of the cutting iron: if you need it for industrial use, you should choose a tool that is designed for continuous operation. It is advisable to choose high quality cutting irons from reputable manufacturers to ensure that you get a high quality and durable tool.
What lubricants are used for thread cutting?
Various cutting oils can be used in thread cutting to improve thread quality. The most common lubricants include oils, emulsions, greases, pastes and sprays. Which lubricant is used depends on several factors, such as the material of the workpiece, the type of threading tool and the type of application. It is recommended to use the lubricant recommended by the tool manufacturer for best results.
What tools are needed to cut an external thread?
To cut an external thread, you will need some basic tools and equipment. These usually include a die, a file, a plain round bar or bolt to serve as a blank, and a vise to clamp the blank securely.
What are the advantages of using the dies from LUBERO?
The dies from LUBERO can be used both manually and in machines and ensure dimensionally accurate thread production without infeeds in one pass. The use of our dies can speed up the production of bolt threads, which can help reduce manufacturing costs.Rely on LUBERO 's years of experience and know-how in the manufacture of threading tools and let our high-quality products convince you.